Customer 360 View
[avatar-to-video image="https://help.crmcarecloud.com/user/pages/02.customer-360-view/Avatar1.png" video="https://help.crmcarecloud.com/user/pages/02.customer-360-view/https___help.crmcarecloud.com_customer-360-view.mp4"]
You gain an in-depth understanding of your customers across different applications and platforms in one place with the Customer 360 View App. Provide your marketing team with a better understanding of the purchasing patterns by visualizing all the customer data on one screen. Increase the lifetime value by utilizing a complete 360-degree customer view.
Customer 360 View Application displays all customer's activities, including purchasing behavior, RFM parameters, omnichannel communication, social engagement, and many other entities related to a customer account. You can register a new customer, search for any customer account or view any particular customer-related data in the Customer 360 View App. All customer data is analyzed and shown in well-arranged widgets.
To open the Customer 360 View, click on the Customer 360 View icon.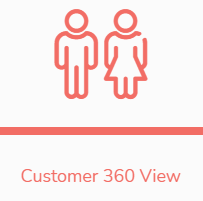 You can continue to:
Customer registration allows you to manually create a new customer account directly within the CareCloud interface.
Click here to learn how to register a new customer account.
The search feature allows you to find and display any account stored in the CareCloud platform
Click here to learn how to find a customer account.
The customer account displays all the 360-degree data in intuitive widgets and tabs.
Click here to learn how to navigate through the customer account.