Loyalty Engine
[avatar-to-video image="https://help.crmcarecloud.com/user/pages/02.customer-360-view/Avatar1.png" video="https://help.crmcarecloud.com/user/pages/06.loyalty-engine/https___help.crmcarecloud.com_loyalty-engine.mp4"]
Loyalty Engine Application helps you identify the key spenders and offer them myriad reward and benefit types. Whether you prefer a point-based loyalty scheme, discount program, tier program, paid VIP program, loyalty coalition, or membership level scheme, Loyalty App has got you covered.
Click on the app icon below and go ahead!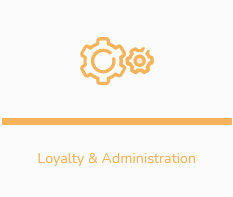 Choose the "Loyalty engine" in the left column, and all types of loyalty settings appear.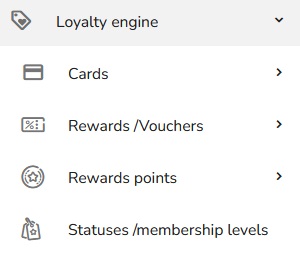 Cards
The card is a common way of identifying a customer. The identification element of a card is a unique customer card number, regardless of whether it is a plastic, electronic, virtual, or membership card. The unique card number can be in the form of a BAR /EAN code, QR code, chip, emboss, or string of characters.
CareCloud platform works with any unique identifier, including cookies. One customer account can have several identifiers assigned to cover all the interactions with the customer.
Rewards are one of the most complex benefits that you can define and manage in the CareCloud platform. Typical uses of Rewards are product discount campaigns, time-limited flash sales, buy more-save more promotions, branded product giveaways and gifts, rewards points payments, holiday promotions, etc. The possibilities of Rewards use are limitless. Read more about Rewards /voucher levels here.
Rewards points are the backbone of point-based customer programs. Create Rewards points groups to make the CareCloud platform easier to navigate and assign the Rewards points to the customer accounts automatically within the run of a user-defined marketing workflow. Read more about Rewards points here.
Levels allow you to create a structure of escalating benefits conditioned on customer loyalty. Define a baseline points collection or flat discounts for each level. Read more about Statuses /membership levels here.
A simple tool that allows you to create and manage discount promotions on selected products based on communication channels and points of sale. You can primarily use it to create discount catalogs with special price incentives. The basic parameters of the campaign price are the product selection, discount setup, including the validity period, the image of the discount, and selection of eligible business units or sale channels (e.g., e-shop, cash register system, mobile application, or sales kiosk).
Read more about Campaign products here.